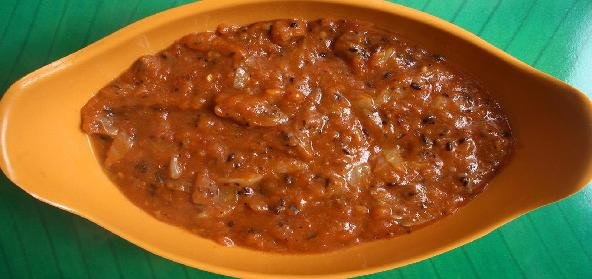 Ingredients:
• 7 – long Brinjals
• 2 – medium-sized Tomatoes (chopped)
• 1 – medium-sized Onion (chopped)
• 3 – Green chillies (chopped)
• 1/2 tsp – Turmeric
• 3 tbsp – oil
• 1 tbsp – chilli powder
• 1/2 cup – Curd
• salt to taste
• a few coriander leaves, chopped
• a few Curry leaves
Method:
Take water in a bowl. Add 1 tsp of salt.
Cut the brinjals into thin pieces and put them in the salt water.
Heat 3 tbsp of oil in a pan. Add the mustard seeds, urad dal, dry red chillies and fry a bit (until they turn red).
Add the curry leaves, then the chopped onions, green chillies and brinjal together.
Add 1/2 tsp of turmeric powder and salt.
Cover the pan and cook on low flame. Keep stirring in between, making sure that the brinjals don't turn into paste while stirring.
When the brinjal are cooked, add chopped tomatoes and cook until they are done.
Turn off the flame. Add curd and chilli powder and mix well.
Sprinkle chopped coriander leaves. Serve with chapathi or rice.
Recipe courtesy of Sify Bawarchi