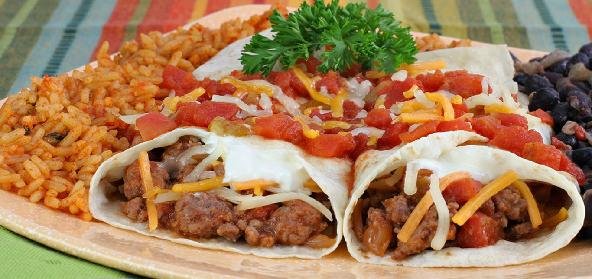 Ingredients:
• 1 to 1.5 cups – boiled long grain Rice
• 1 small can – black beans
• 4 – soft tortilla
• Red onions, sliced in thin strips
• 3 tsp – Lime juice
• 1 – green bell pepper, seeded and cut in to thin strips
• 1/2 cup – cilantro, chopped
• 2 tsp – dried Oregano
• 4 tbsp – guacamole
• 4 tbsp – fresh salsa
• 4 tbsp – sour Cream
• 4 tbsp – grated, cheddar cheese
Method:
Saute green bell peppers and red onions in oil with oregano until slightly crisp.
Boil rice till light and fluffy. Then add chopped coriander, lime juice and salt. Mix well.
Drain black beans from can, rinse well and stir fry in oil with little crushed garlic, ginger, cumin, black pepper and salt.
Slightly toast tortillas in 2 tbsp oil on a hot tava or girdle.
Turn both sides so that they are toasted well.
To assemble:
Take one tortilla on a plate. Spread guacamole on the tortilla as an even layer.
Place 2 tbsp of rice mix on one half of the tortilla. Add black beans on top.
Spread salsa, sour cream and grated cheese on top of the beans.
Fold the tortilla like a wrap.
This can be prepared ahead until the wrap stage. Then cover the prepared burritos loosely with foil and refrigerate.
When you are ready to serve, warm in preheated oven(300 F) for 5-10 mins.
Remove foil and serve.
Recipe courtesy of Devipriya Anand