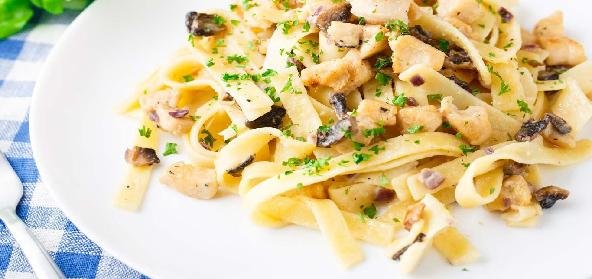 Ingredients:
• 1 packet – Pasta shells
• 250 g- boneless Chicken, preferably breast Chicken
• 2-3 – Garlic Cloves
• 500 g – white button Mushrooms
• 1 tbsp – white flour
• 1/2 cup – thickened Cream
• Olive oil
• Handful – chopped Parsley
• Salt and pepper
• White wine
• Parmesan cheese
Method:
Cook pasta in boiling water with some salt.
Drain when cooked and pour cold water over it so pasta separates nicely.
Finely chop garlic.
Cut mushroom into quarters or halves.
Heat olive oil in a big pan.
Fry garlic, add chicken and fry till cooked.
Add flour and fry.
Add mushrooms and stir for 2 mins.
Add cream and white wine.
Stir in some salt and add chopped parsley. Heat for 2 mins
Add salt and pepper to taste.
Serve immediately on cooked pasta. Garnish with Parmesan cheese.
Recipe courtesy of Gandhali