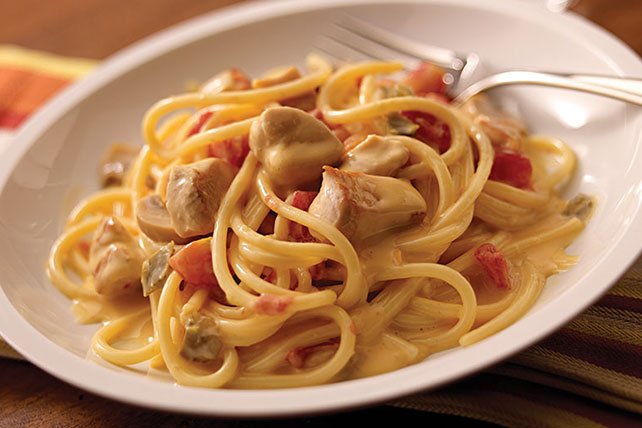 Spaghetti made with tender chicken in ginger, garlic and soya sauce
Ingredients:
For Chicken Marinate
4 skinless and boneless chicken breast halves
2 1/2 teaspoon white sugar
1 1/2 tablespoon white vinegar
1/4 cup soya sauce
For Spaghetti
1 cup spaghetti
2 tablespoon minced ginger
1 tablespoon minced garlic
1 cup stemmed and sliced mushrooms (optional)
6 sliced spring onions
1/2 teaspoon white sugar
1 1/2 tablespoon white vinegar
1/4 cup soya sauce
1 1/4 cups chicken broth
1 cup water
1 tablespoon sesame oil
1/2 teaspoon black pepper powder
2 tablespoon cornflour
2 tablespoon oil
Salt to taste
Method:
1. Boil spaghetti in lightly salted water for 8 to 10 minutes or until done. Drain and keep aside.
2. Cut chicken breast halves into thin strips.
3. For marinating the chicken, in a medium sized bowl combine the chicken with white sugar, vinegar and soya sauce. Mix this together and coat the chicken well. Cover and marinate in the refrigerator for at least 1 hour.
4. In another medium sized bowl, combine the chicken broth, water, sesame oil and black pepper powder with the sugar, vinegar and soya sauce.
5. In a separate small bowl, dissolve the cornflour with some of this mixture and slowly add to the bulk of the mixture, stirring well. Keep aside.
6. Heat 1 tablespoon oil in a wok or large pan over high heat, add the chicken and stir fry for 4-5 minutes or until golden brown.
7. Transfer the chicken along with juices to a warm plate.
8. Heat the remaining oil in the same wok or pan over high heat, add ginger, garlic, mushrooms, spring onions and stir fry for 30 seconds.
9. Add the sauce mixture and then the chicken. Simmer until the sauce begins to thicken, for about 2-3 minutes.
10. Add boiled noodles, salt if required and toss gently.
11. Serve immediately.
Cooking time: 30-35