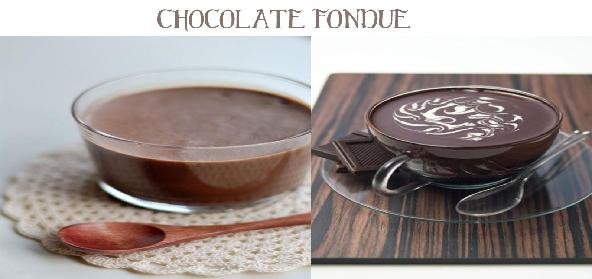 Ingredients:
• 225 g / 8 oz – dark chocolate
• 200 ml / 7 fl oz / 1.5 cup – double (heavy) Cream
• White and pink marshmallows
• Sweet biscuits (cookies)
• fruits
Method:
Break the chocolate into small pieces and place in a small saucepan with the double (heavy) cream.
Heat the mixture gently, stirring constantly until the chocolate has melted and blended with the cream.
Pour into a fondue pot or a small flameproof dish and keep warm, preferably over a small burner.
Serve with a selection of fruits, marshmallows and biscuits (cookies) for dipping.
The fruit and marshmallows can be spiked on fondue forks, wooden skewers or ordinary forks for dipping into the chocolate fondue.
Tip:
Dish warmers which use a night light are just as good as a fondue set for keeping the fondue warm.
If you do not have one, stand the fondue dish in a larger dish and pour in enough boiling water to come halfway up the fondue dish.
Whichever method you use, place your fondue on a heat proof stand to protect the table.