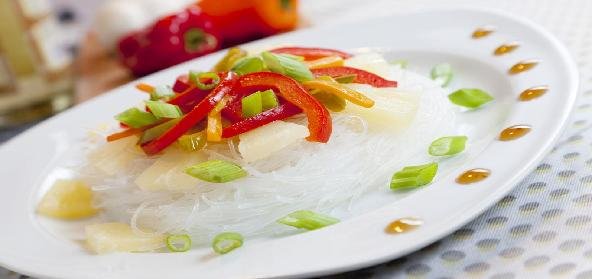 Ingredients:
• For the Dressing:
• 1 to 2 – fresh red or green chillies, sliced fine on the diagonal
• 4 tbsp – toasted sesame oil
• 1 tbsp – fish sauce or Oyster sauce from blue elephant or real Thai
• 1 tbsp – chilli oil from lee kum kee
• 1 – orange, zest and juice
• 1 tsp – Honey
• 1 tsp – Lemon juice
• salt and pepper to taste
• For the salad:
• 330 g – dried mung bean noodles
• 6 cups – stock
• 1 packet – bean sprouts, tops and tails removed
• 1 head – iceberg lettuce, finely shredded
• 1 cup – mixed fresh herbs (basil, Mint and coriander)
• 1/2 cup – Spring onions finely sliced
• 1/2 cup – toasted sesame
Method:
For the Dressing:
Combine all the ingredients and mix well.
For the salad:
Heat stock to boiling, reduce to simmer.
Holding the entire mass of mung bean with one hand, dip half into hot stock and allow to soften.
Using clean kitchen scissors cut 3 or 4-inch lengths and allow to drop into stock.
Repeat with remaining mass of noodles.
Allow to cook until noodles are plump and glasslike (2 to 4 mins).
Drain in a colander; rinse once with cold water and place in large mixing bowl.
Add the dressing, mix well and leave to chill in refrigerator.
Cut lettuce and herbs using the chiffonade technique and chill.
When ready to serve add sprouts, lettuce and herbs and toss well again.
Garnish with the toasted sesame seed and serve.
Recipe courtesy of Rushina Munshaw Ghildiyal