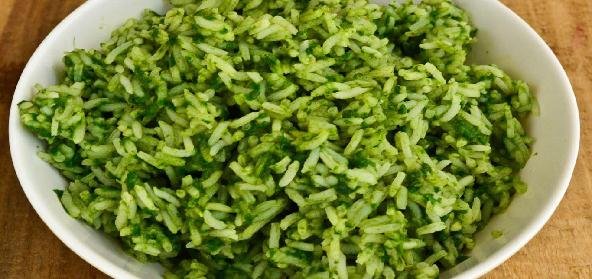 Ingredients:
• Long grain Rice (Basmati) – 2 cups
• Cilantro – 1 bunch
• Onion – 1, sliced into long pieces
• Tamarind paste – 1/2 tsp
• Red Chillies – 3 -4
• Urad Dal – 1 tsp
• Mustard – 1 tsp
• Oil – 3 tbsps
• Garam Masala – 2 tbsps
• Cinnamon sticks- 2-3, to be finely ground
• Bay Leaf – 1
• Cloves – 4-5
• Ghee – 1 tbsp
• Asafoetida (hing) – a dash
• Salt to taste
Method:
Soak rice in warm water for about 30 minutes.
Take 1 tbsp oil in a pan and saute mustard. Once the mustard splutters, add urad dal, red chillies and hing.
Fry some more till the dal is slightly brown and keep aside.
Cook the rice with 2 cups of water. The fastest way is to cook the rice in the microwave oven. This will take only 10 minutes.
Chop the cilantro so that they can be easily added to the mixer.
Blend the cilantro, tamarind paste and the fried ingredients.
Add salt and grind with a little water. This paste can be used as dhaniya chutney and can be stored in the refrigerator for future use.
Fry the sliced onions, cloves, powdered cinnamon and bay leaf in the remaining oil till the onion is slightly brown.
Add rice in parts while mixing continuously so that rice does not form lumps. Add 2 tbsp of the chutney and mix.
Alternate till all the rice is mixed and the dhaniya paste is evenly coated on the rice. Use your discretion while adding the chutney.
Add garam masala/pulav masala, salt and mix for a few minutes.
Add the ghee and mix well before serving.
Dhaniya rice goes well with any of the raitas. The chutney can be stored in the refrigerator and can be used for sandwiches too.
Recipe courtesy of Anu