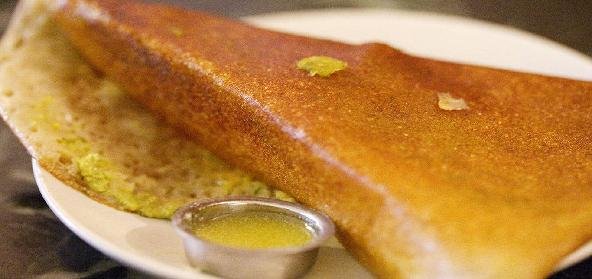 Ingredients:
• 300 g – basmati Rice
• 150 g – Urad Dal
• 1 tsp – Fenugreek seeds
• 4 tbsp – groundnut oil
• 1 tsp – salt
Method:
Wash the rice and urad dal thoroughly and soak along with the fenugreek seeds overnight.
Put the soaked rice in blender, add salt and 50 ml of water and make a fine paste or batter.
Remove to a large bowl and keep aside for at least 5 hours.
Heat a non-stick pan on a low heat, apply oil to cover the pan completely.
Spread a portion of the batter over almost the entire non-stick pan by moving a ladle in concentric circles from the middle going outwards.
Leave it to cook.
When the batter rises, it is cooked on the underside (approximately after three minutes).
Sprinkle a little oil over the dosa and turn it over to cook until golden brown on the second side.
Lift up the edge of the dosa to see if it is golden.
Remove from the pan and fold it in half, halve again to make a triangle.
Serve hot.