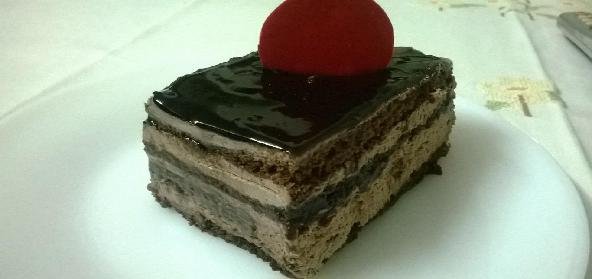 Ingredients:
• 250g – Butter chopped
• 150g – White chocolate chopped
• 440g – Caster Sugar
• 250 ml – Milk
• 225 g – Plain flour
• 75 g – Self rising flour
• 1 tsp – Vanilla essence
• 2 eggs – beaten slightly
• 2 tbsp – Cocoa powder
• 600 g – Milk chocolate chopped
• 250 ml – Cream.
Method:
Preheat the oven.
Grease two deep 20 cm round cake tins, line base the sides with baking paper.
Combine butter, white chocolate, sugar and milk in a saucepan, stir over low heat, until smooth.
Transfer the mixture to a large bowl and cool.
Whisk the sifted flour into the white chocolate mixture.
Now add the essence and the eggs.
Pour half the mixture into the prepared tin.
Whisk the cocoa half and pour into the other tin.
Bake for 50 mins.
Remove from the tin and cool it in the wire rack.
For the icing:
Combine milk chocolate and cream in a pan over low heat until smooth.
Transfer to another bowl, cover and refrigerate stirring occasionally until mixture is of spreadable consistency.
Split each cooled cake into half.
Place one layer of cake and spread the icing, repeat on alternate layers.
Spread the remaining icing on top and sides of the cake.
Serve with tea.
Recipe courtesy of Ayeesha Riaz