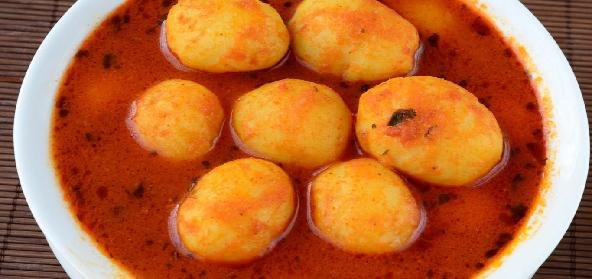 Ingredients:
• Baby potatoes: 12
• Onions (medium sized ): 3, chopped
• Tomato (medium-sized): 2, pureed
• Curd: 1 tbsp
• Masalas needed:
• Red Chilli powder: 1/4 tsp
• Turmeric powder – 1 tsp
• Coriander powder: 1 tsp
• Cumin powder: 1 tsp
• Oil for deep frying Potatoes
• Grind the below ingredients to a paste
• Onions: 2, medium sized
• Garlic: 5 big Cloves
• Ginger: 1/2 inch piece
• Coriander leaves: 1/2 bunch
• Green chilly: 3, medium-sized ones
• Salt to taste
Method:
Boil potatoes, peel and poke holes in them using a fork.
Put some salt and turmeric powder in a vessel. Add all the potatoes into this vessel and shake vigorously so that the powder is spread over them.
Deep fry the potatoes in hot oil until golden brown.
Retain one table spoon of the fried oil in the kadhai and keep aside the rest.
Add some cumin seeds.
Add the chopped onions and fry until dark brown.
Add the ground paste and stir-fry for 2 mins.
Add the tomato puree and all masala powders.
Stir fry until the oil separates in the sides.
Add beaten curd in two batches to blend them into the gravy smoothly.
Add the fried potatoes and stir for a few seconds.
Add sufficient water just to cover them.
Cook on a high flame until the gravy thickens.
Add salt.
Garnish with sliced onions and chopped coriander leaves and serve hot with rotis or rice.
Recipe courtesy of Veena