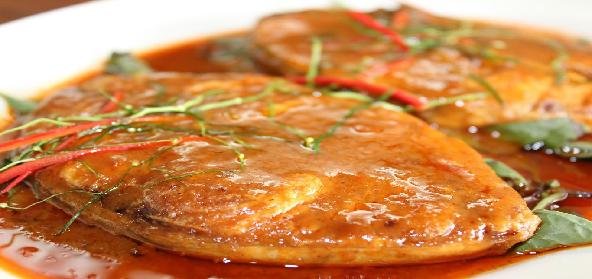 Ingredients:
• 1 lb – fish (king, Butter or trout)
• 1 – tamarind, the size of a Lemon
• 1/2- Coconut
• 1- large Onion
• 2 – medium sized Tomatoes (for better taste, use sour Tomatoes)
• 10-15 – Methi seeds
• Few – Curry leaves
• 5-6 – split Green chillies
• 1 tsp – Ginger Garlic paste
• 2 tbsp – chilli powder
• 1 tsp – Turmeric powder
• 1 tbsp – Dhania powder
• Coriander leaves
• 4-5 tbsp – cooking oil
• salt
Method:
Soak tamarind in warm water and squeeze out the juice.
Add salt, a pinch of turmeric powder and soak the fish pieces.
Grind together coconut, onion and tomatoes to a fine paste.
Heat oil, add curry leaves and methi seeds. Add ginger garlic paste and split green chillies. Fry.
Add ground masala and spices and fry well till the oil rises to the top. When this mixture is boiling, slowly add fish pieces and the tamarind water. Cover and cook on simmer.
Garnish with coriander leaves and serve hot with parboiled rice. If the curry is too thick add warm water while boiling.
Recipe courtesy of Sify Bawarchi