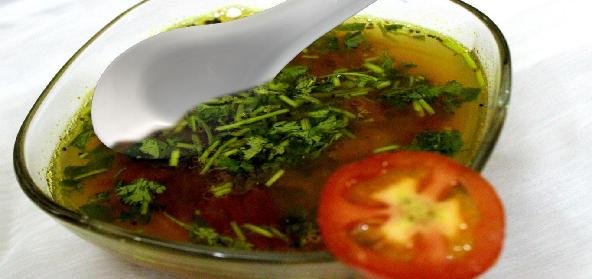 Ingredients:
• Tamarind – 1 one small Lemon size (extract water out of it)
• Garlic – 5 to 6 pods
• Pepper – 1/2 tsp
• Red Chillies – 2 to 3
• Ghee – little for seasoning
• Salt as per taste
• For seasoning: Mustard, Jeera, Curry leaves
Method:
Take out the extract of tamarind and make into one glass of water.
In that water, add salt and boil it to get rid of the raw smell of tamarind.
Meanwhile, in a mixie, grind garlic, pepper and red chillies together like a paste.
Once the tamarind water is boiled, add the ground paste to it and add some more water to the required quantity.
Once it is boiled, season with the ingredients in ghee.
Serve hot with rice.
Recipe courtesy of Prema