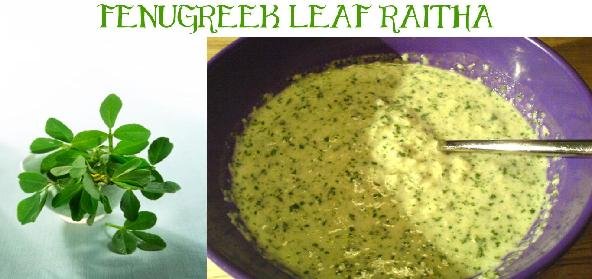 Ingredients:
• curds – 2 cups
• Methi leaves – one and a half cup (discard stems)
• oil – 2 tbsp
• Bengal Gram (Channa) Dal – 1 tbsp
• Onion – 1/2 cup, minced
• Green chillies 2-3, minced
• salt to taste
• Sugar – 1 tsp
Method:
Line a soup strainer with thin cloth and pour the curd in it.
Let the whey drain till 1 cup thick curd remains in the cloth (reserve 2 tbsp of whey)
Transfer the curd to a bowl and beat till smooth. Add sugar.
Heat oil in a Kadai and add the Dal. When it turns brown, add onion, Methi leaves and chillies.
Add salt and the reserved whey. Cover and cook till the leaves are soft.
If there is moisture, increase the flame and stir till the mixture is dry.
Cool the Methi mixture and combine with the curd. Taste and correct the seasoning.