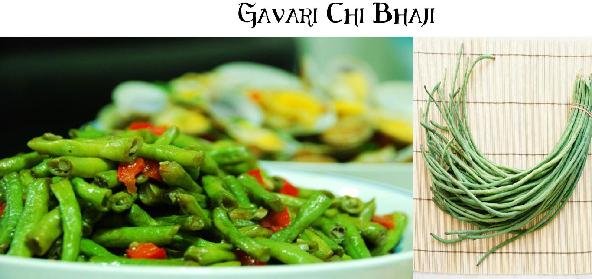 Ingredients:
• 1/2 kg – gavar
• 1 .5 tsp – goda masala
• 1 tsp – Coriander seed powder
• 1/2 tsp – Mustard Seeds
• 1/2 tsp – Cumin seed powder
• 1/2 tsp – Turmeric powder
• 1 tbsp – oil
• a pinch asafetida
• an inch wide piece Jaggery
• salt to taste
Method:
Wash and dry the gavar.
String each bean and break it into 2 or 3 even sized pieces taking off remaining strings at each break.
Heat oil in a wok and season with mustard seed, asafetida and turmeric.
Then add the chopped gavar and saute.
Sprinkle the goda masala, coriander and cumin seed powders over the vegetable and mix.
Also add the jaggery now.
Cook covered for 15-20 minutes, stirring occasionally.
Use a steel plate as a lid for the skillet. On it pour a little drinking water.
As this heats, it help to cook the gavar.
Finally, add the water on the lid to the bhaji if it requires more moisture.
Stir in the salt. Serve with polis, rice and varan.
Recipe courtesy of Anita Raheja