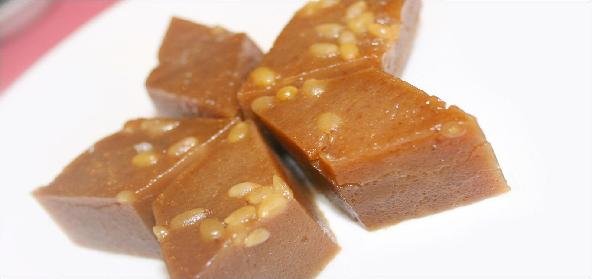 Ingredients:
• Maida – 2 cup
• Sugar – 1.5 cup
• Egg yolks – 6
• Thick Coconut Milk – 1 cup
• Cardamom and Nutmeg powder – 1/2 tsp, each
• Melted Ghee – 1/3 cup.
Method:
Mix maida with cardamom and nutmeg powder.
Dissolve sugar in 1/2 cup water and simmer for two minutes and remove from fire and cool to room temperature.
Beat the yolks lightly and mix with coconut milk.
Add sugar syrup and coconut milk mixture to maida and make a smooth batter.
Pour 1 tbsp of ghee in a deep 8 inch square baking dish. Place the dish in a moderately hot oven. When the ghee gets hot, pour a thin layer of batter in it. When it sets, pour some ghee again and then some batter. Use all the batter.
Cool and cut bibinca into slices.