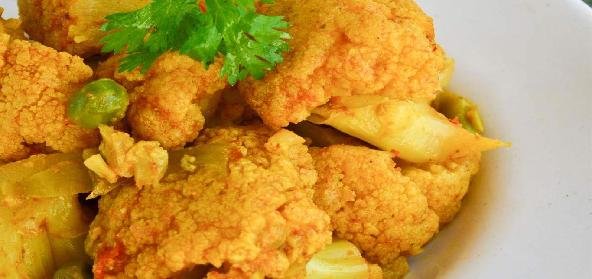 Ingredients:
• 1 – whole Cauliflower (cut into florets)
• 2 – big Onions (chopped)
• 2 – medium sized Tomatoes (chopped)
• 3 – Green chillies (chopped)
• 1 tbsp – Dhania powder
• 1 tbsp – kasuri Methi powder
• 1/2 tsp – chilli powder
• 4-5 – flakes of Garlic
• 1 inch Ginger
• 2 pinches of Turmeric
• 2 tbsp – oil for seasoning
• 1/2 cup – oil for frying Cauliflower
• Fresh Coriander leaves
• 1/2 tsp – Mustard Seeds for seasoning
• 1/2 cup – Curd
• Salt to taste
Method:
Grind ginger and garlic into thick paste. Add 1/2 cup oil in a pan for frying the cauliflower florets.
Add the florets in the oil and deep fry them. If you don't want to fry the florets, you can use cooking spray and just saute them.
Add the seasoning oil in another pan and add the mustard seeds. Add ginger, garlic paste and fry it till light brown.
Now add the chopped onions, chopped green chillies and fry them till golden brown.
Then add the chopped tomatoes and fry them till they become soft.
Then add the dhania powder, salt, chilli powder, turmeric, curd and let it cook for 5 minutes. Then add the fried florets and let it cook along with the gravy for 10 minutes on a medium heat.
Last thing to add is the kasuri methi powder so that it does not get cooked too much.
Remove from the stove and garnish it with coriander leaves. Serve with rice or chapatti.
Recipe courtesy of Mansi