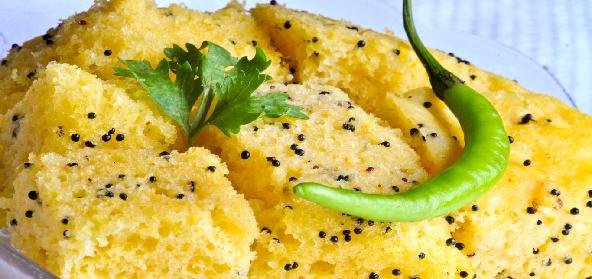 Ingredients:
• 2 cups long-grain Rice
• 1 cup – Toor Dal
• 4 cups water
• 1 cup plain khatta yogurt or 2 cups buttermilk (Chaas)
• 3 tbsp coriander, chopped
• 1/2 inch ginger, shredded
• 1-2 hot peppers, chopped or minced
• 1/2 cup Mustard Seeds
• 1/2 cup sesame seeds
• 2 tsp eno or 1 tbsp baking soda
• 2 tbsp Sugar
• 1 tbsp Haldi
• 1/2 cup oil
• 2-3 dry red peppers
• Salt to taste
• 1/2 lb Cabbage (optional)
Method:
Mix rice and toor dal and soak them overnight in water in a large vessel. Drain and clean under running water the next morning and keep for 5 minutes.
Grind the drained rice and dal mixture in a grinder using yogurt and fresh water to make paste (not too thick or too thin) and pour it into another vessel.
Now, mix well the rice-dal paste with 2 tbsp mustard seeds, eno, chopped coriander, chopped hot peppers, salt, sugar, shredded ginger, haldi and 1 tbsp oil (optional). Shredded cabbage if used may be added at this time.
Pour in oven-proof deep container greased with oil.
Place in pre-heated oven at 300 degrees F for 15 minutes.
The handvo is ready.
In a small container with handle, pour remaining oil, mustard seeds, sesame seeds, dry peppers and warm for 2 minutes.
Pour tempering over handvo for taste.
Recipe courtesy of Raj Patel