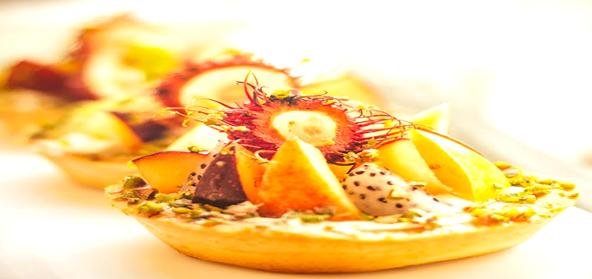 Ingredients:
• Fresh Cream-500gm
• Yoghurt-500gm
• Condensed milk(Milkmaid)-400gm
• Gulkand-20gm
• Paan Flavored mouth freshener-20gm
• Garnish/ Plating:
• Paan Leaf/Paan flavored mouth freshener
Method:
Mix fresh Cream,yoghurt and condensed milk(milkmaid) all together in a bowl. Mix it well with a whisker.
Add the flavoring agent like Paan mouth freshener and gulkand into the batter.
Pour the mixture in small bake proof ceramic or glass container or bowl. Place the bowl in the baking tray.
Pour water into the tray and bake it for 6 to 8 minutes at 160 degree Celsius.
After baking, keep the baked yoghurt into refrigerator for an hour. Garnish with Pistachio flakes and chocolate.
Recipe courtesy of Chef Balvinder Pal Singh Lubhana