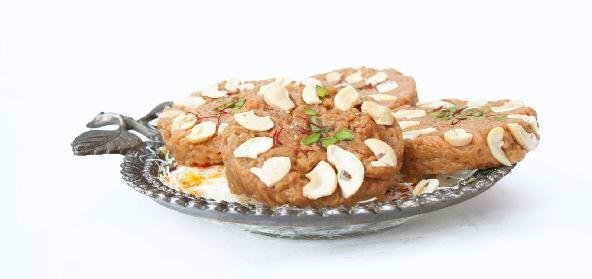 Ingredients:
• 1 litre – Milk
• A pinch – citric acid
• 1 cup – Sugar
• 1 tbsp – Wheat flour
• 2 tbsp – Ghee
• A pinch – Saffron
• Pistachios and Almonds – slivered for decoration
Method:
Make paneer using milk and citric acid. Hang it to drain for about an hour.
Heat ghee in a pan, add flour and saute until golden brown
Add saffron, reduce the flame and add paneer, cook on low flame stirring constantly
Meanwhile, heat another pan and caramelize sugar until all the sugar melt.
Then add paneer mix to the caramelized sugar and cook the mix on low heat until the mix coats the back of the spoon. It will take about 15-20 minutes.
Remove from heat and let it cool
Grease the palms with ghee and make small balls about 1.5 inch in diameter out of the still hot mix and flatten them.
Decorate with slivered nuts and serve.
Recipe courtesy of Lizy Solanki