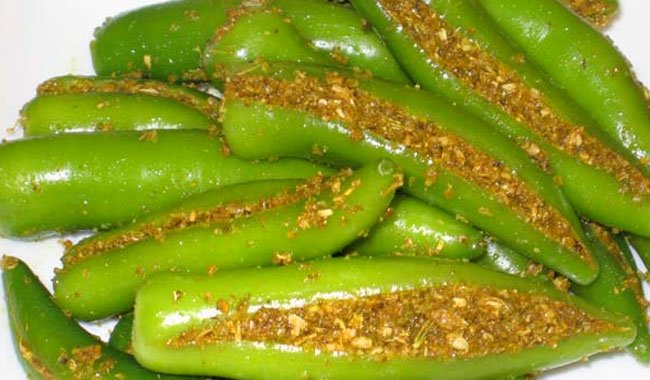 Ingredients:
2 1/2 cups (500 gm)hari mirch (green chilies), sliced
3 tablespoon peeli sarson (yellow mustard seeds)
1 tablespoon turmeric powder
11/2 tablespoon fennel seeds (crushed)
11/2 cups oil
2 1/2 tablespoon salt
2 tablespoon lemon juice (optional)
Method:
1. Wash chilies and wipe dry. Add lemon juice and mix well.
2. Heat oil and turn off the gas.
3. When oil is warm, add asafoetida (if using), yellow mustard seeds, turmeric powder ,fennel seeds and salt.
4. Keep aside to cool.
5. Add chilies into the mixed spices and mix well.
6. Chilies should be completely immersed in oil mixture, leaving 1 cm of oil border on top. If not then heat appropriate amount of oil, cool it and mix with the achar.
7. Store the Achar in a porcelain jar and keep it in a dry place.
8. Achar is ready to eat .