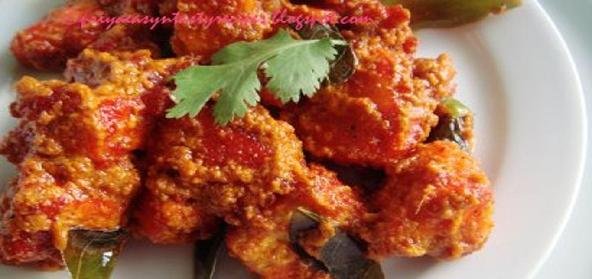 Ingredients:
• 2 cups – Paneer pieces
• 1 tsp – Ginger Garlic paste
• 1/2 tsp – Fennel seed powder
• 2 tbsp – Cornflour
• 1/4 tsp – Red food color
• 1/2 tsp – Cumin seed powder
• 1/2 tsp – Salt
• Oil for Deep Frying
• 2 – Green chillies
• 5 – Curry leaves
• To Mix:
• 1 cup – Thick yogurt
• 1 tsp – Pepper powder
• 1 tsp – Garam Masala powder
• 1/2 tsp – Turmeric powder
• Salt
Method:
Mix corn flour, food colour, cumin seed powder, ginger garlic paste, fennel seed powder with salt into a thick paste with enough water.
Marinate the paneer pieces with the corn flour paste for at least one hour.
Heat oil for Deep Frying; fry them in batches until well cooked.
Heat a few tsp of oil in another pan, fry the curry leaves and slit open green chillies.
Meanwhile mix all the ingredients from list 'to mix'.
Once the green chillies are well fried, add it to the thick paste of yogurt and spices.
Stir them continuously on simmer, once it starts boiling add the fried paneer and cook until the oil separates.
The gravy will turn dry and the paneer pieces will be well coated with the yoghurt gravy.
Recipe Courtesy: Priya Easy N Tasty Recipes.