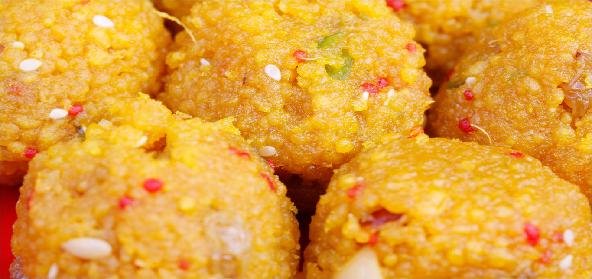 Ingredients:
• 1 kg – soft white khoya
• 600g – Sugar powdered
• 1 tsp – Cardamom powder
• 10 – green unsalted pistachios, thinly slivered
• Few drops each – Saffron color, green color
Method:
Grate khoya or crumble to fine even crumbs. Add sugar, mix well.
Put in a heavy pan, cooking, on slow flame.
Take care to stir continuously, to keep from sticking to bottom. Cook till a soft semisolid lump is formed.
Sprinkle cardamom powder, mix well.
Divide mixture into three parts, each half of the other.
Add a few drops of green to smallest portion.
Mix well till evenly coloured.
Add a few drops of orange colour to largest portion. Mix as above.
Keep the medium portion white.
Make 20 small balls of green portion.
Divide white portion into 20 parts, cover over green ball and make a bigger ball.
Repeat by dividing orange into 20 portions, similarly covering over white ones.
The end result will be 20 orange coloured ladoos.
Chill well, cut each neatly into two halves with a sharp knife.
Each half will look like three coloured concentric circles, with green in centre.
Place one or two slivers over pistachios in centre, decoratively.
Store carefully in airtight wide shallow container.
Recipe courtesy of Saroj Kering