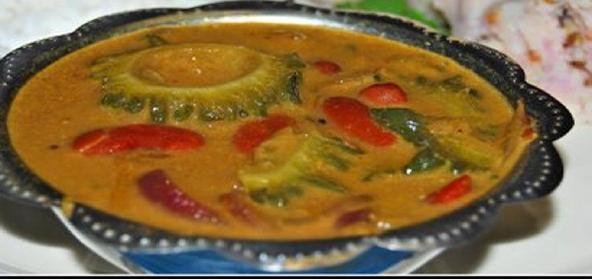 Ingredients:
• 1 cup – Rajma or red beans, soaked overnight and then cooked till tender.
• 4 – Small to medium Bitter gourds (karela),
• 1 tbsp – Vegetable or Canola Oil
• 1 – Medium red onion, thinly sliced
• 1 tbsp – Minced Garlic
• 1 tsp – Mustard Seeds
• 1 tsp – Cumin seeds
• A pinch of asafetida (optional)
• 1 tbsp – Sugar
• 1 tbsp – Garam Masala
• 1 tsp – Chilli powder
• 1/2 tsp – Turmeric (optional)
• 1/2 cup – Coconut Milk
• Salt to taste
Method:
Trim the ends and cut the karela into rings.
Remove the hard seeds in the centre, put the karela rings in a microwave safe bowl, add about 1 cup of water, and microwave* until tender for about 10-15 minutes.
The karela should still have a slight bite to it.
Heat the oil in a saucepan, add the mustard seeds, cumin seeds, and asafoetida.
When the seeds sputter, add the onions, sugar and stir fry until the onions begin to brown.
Add the garlic and stir for a minute.
Add the garam masala, chilli powder, and turmeric( if using).
Stir to coat the spices with oil and toast them for about a minute.
Add the karela and stir in.
Then add the rajma and about 1 cup of water and salt to taste.
Simmer the curry for about 10 minutes on medium heat.
Add the coconut milk and turn off the heat and mix well.
Garnish with coriander, if desired.
Recipe courtesy: Holy Cow Vegan.