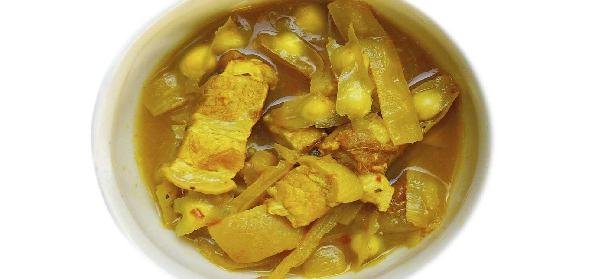 Ingredients:
• 5-6 – drumsticks, peeled and chopped into fingers
• 2 – onions, finely sliced
• 1/2 tsp – Mustard Seeds
• 1/2 tsp – Rice
• 2 – dry red chillies, broken into half
• 2 tbsp – oil
• salt to taste
• Grind to paste: 3/4 cup – fresh coconut, grated
• 1/2 tsp – Cumin seeds
• 3 – Garlic Cloves
• 2 – green or red fresh chillies
• 2-3 pinches – Turmeric powder
Method:
Boil the drumsticks in 2 cups of water.
Cover and cook until tender, then remove the lid.
When almost the entire water has evaporated, drain and keep the drumsticks aside.
Put the ground paste in the same pan and cover with the boiled drumsticks.
Sprinkle with some salted water. Cover and cook until it releases steam.
Stir gently. Sprinkle some more water. Cover and keep aside.
Heat oil in a small pan and add rice and mustard seeds.
Allow to splutter, then add the chillies and onions.
When the onions are transparent, pour over the drumstick mixture.
Recipe courtesy of Saroj Kering