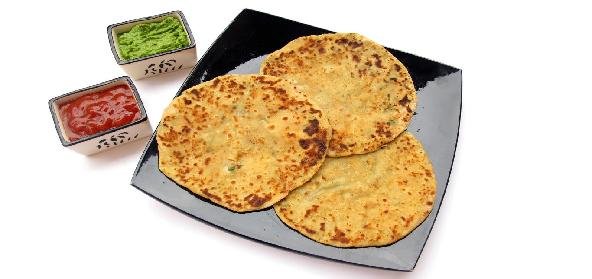 Ingredients:
• 2 cups (250 gms)- Kootoo ka atta
• 1 large (125 gms) Potato boiled, peeled, mashed smooth
• 1 tsp- Sesdha namak (rock salt)
• Water to knead
• Ghee (clarified butter) for frying the paranthas
• Dry flour for dusting
Method:
Mix atta, potatoes and salt together, add water and knead into pliable dough.
Cover and leave to rest for at least 30 minutes.
Break dough into 8 pieces and shape each into round, smooth balls, dusting with atta, if it sticks.
Roll into circles of 1/4 cm or 1/8 inch thickness.
You will have to roll by patting with hand.
If you want to roll with a rolling pin, increase the proportion of potatoes.
Heat the tava, (to the point when a drop of water sizzles and then evaporates).
Place one parantha on the tawa, lower flame to medium and when edges start lifting slightly, make a trail of ghee along the outer edge of the parantha.
When the underside is crisp and dark, smear ghee on the uncooked surface, increase flame and turn the parantha upside-down.
Cook on the other side too.
It is ready to be served when dark and crisp on both sides.
Recipe courtesy of Saroj Kering