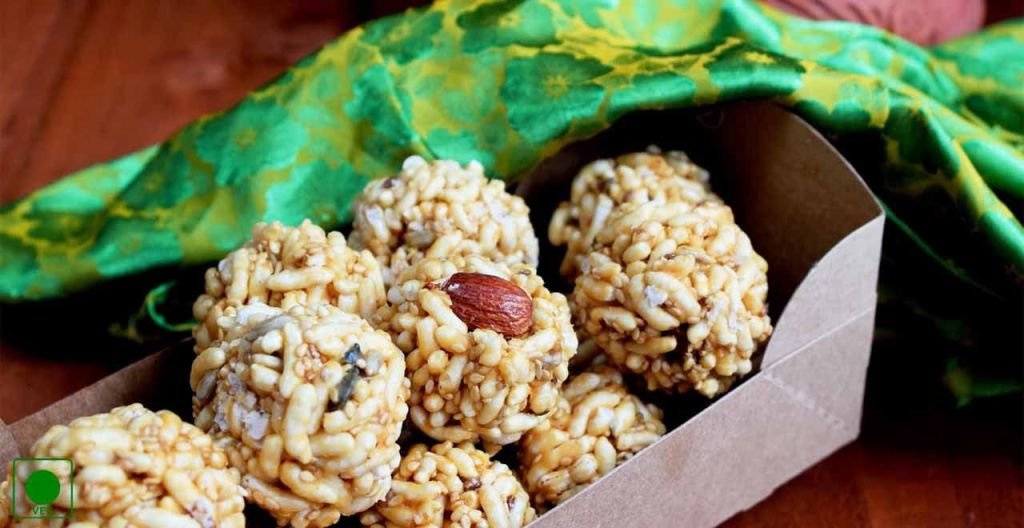 Mamra ladoo or puffed rice balls is kids favourite, healthy winter recipe. Mamra Ladoo is made with jaggery and coated with puffed rice and then shaped into a balls. This yummy crispy rice balls are very tasty and healthy for kids and can have it any time. You can also store it in an air-tight container for 2-3 weeks.
Ingredients
– 200 gm Mamra (puffed rice)
– 250 gm Jaggery
– 2 tbsp Ghee
How To Cook?
1. Slightly roast Mamra (puffed rice) in a pan and keep aside.
2. Now, heat ghee in a pan and add jaggery to it. Keep stirring it until jaggery melts completely.
3. When the jaggery start boiling and change its color slow down the flame.
4. Now, add roasted mamra to the pan and mix it well.
5. Remove the pan from the flame.
6. Now, take a small portion of the mixture and give it a round shape and make a Ladoo from it.
7. Mamra Ladoo is ready to eat. You can also store Mamra Ladoo in an air-tight container.
Preparation Time: 10 Minutes
Cooking Time: 15 Minutes