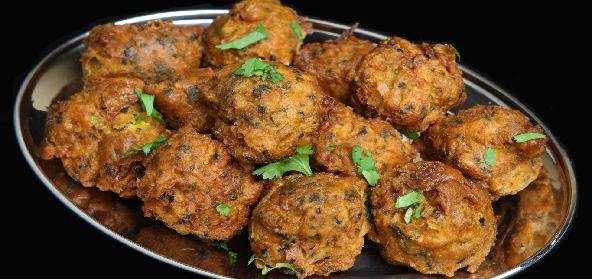 Ingredients:
• 1.5 cup – all purpose flour/maida
• 1/4 tsp – cooking soda
• 3/4 cup – sour Curd /buttermilk
• Salt to taste
• 3 – green chillies, chopped
• 4 – strands curry leaves, chopped
• 4 tsp – Sugar
• Oil to deep fry
Method:
Sieve cooking soda and maida together and keep it aside.
In a vessel, add the chopped curry leaves, salt, sugar and chillies. To this add the flour mixture and mix well.
Make a hole in the centre of the flour mixture and slowly incorporate the curd and mix well.
The flour should be of pouring consistency.
Increase the curd if required.
Do not use water to knead the batter.
Let the batter rest at least for an hour for the best results.
Heat the oil on a medium flame; pour one tbsp of batter directly into the oil and you can see it forms a round shape.
Fry till it becomes brown.
Remove from oil and place on a tissue to remove the extra oil.
Serve hot with chutney.
Recipe courtesy of Sushma