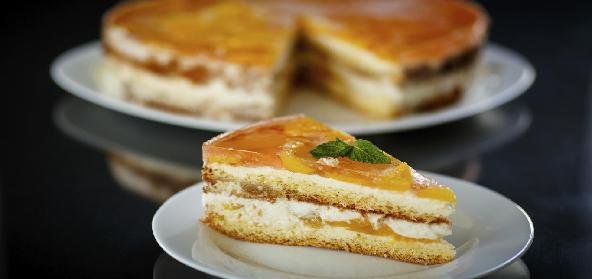 Ingredients:
• For crust:
• 2 packs – Digestive biscuits (1.5 cups when crushed)
• 1/3 cup – Butter (melted)
• For filling:
• 1 cup – Powdered Sugar (Add more if your Mango is not sweet)
• 3 cups – Thick full Cream yogurt
• 2 cups – Paneer / Cottage cheese cubes-
• 1.75 cups – water – | 10 gm – Chinagrass or agar agar
• 2 – mangoes pureed
• For the Mango glaze:
• 1/2 cup – Mango puree
• 2 tbsp – Water
• 2 tbsp – Sugar
• 1 tsp – Lime juice
Method:
Powder the biscuits in a mixie into a coarse powder.
Pour the melted butter on the powdered biscuits and mix with your hands or run it again the mixie for few seconds.
You need to fill the pan's base with the biscuit crumbs.
Press it firmly to the base using a glass and chill this in the freezer for 15 mins.
Hang the curd in a thin cloth to remove all the water content from it. Leave it for a couple of hours to get thick hung curd.
Chop the paneer into small cubes. Grind the hung curd and paneer together to make a smooth puree.
Peel, chop and puree two mangoes.
Take the mango puree in a pan and heat it over low flame. Dont boil it.
Meanwhile chop the china grass sheet into small pieces.
Soak it in 1.75 cups of water for 10 minutes and the heat it until they melt completely.
Now gently combine the heated mango puree, china grass solution and sugar to the hung curd paneer mixture and beat to get a even creamy textured filling.
Remove the mould from the freezer and pour in the filling and allow it to set in the fridge for 3 hours.
Place the mango puree, water, sugar and lime juice in a sauce pan and heat it on medium flame until it becomes slightly thick.
Once the glaze comes to room temperature, apply it on the cheese cake layer and set it again in the fridge for an hour. Decorate as per your choice and enjoy eating.
Recipe courtesy of Sify Bawarchi