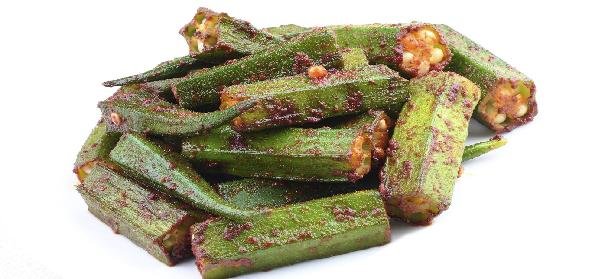 Ingredients:
• Okra – 1/2 kg
• Coconut – 1 small dry piece
• Onions – 2
• Sesame seeds – 4 tsp
• Coriander – 2 tsp
• Garlic – 4 pieces
• Tamarind – 1 small piece
• Red Chilli powder, turmeric, Oil to fry
• Salt to taste
• Coriander leaves – a bunch
Method:
Wash okra and dry it with a towel and slit them lengthwise without cutting fully and keep aside.
Fry all ingredients except okra in little oil and grind it into a paste.
Stuff the masala carefully in the okra and fry them in a spoonful of oil and let it simmer for 5 mins till the okra is tender.
Take off the lid and fry till brown and crispy.
Garnish with coriander leaves.
Recipe courtesy of Neeta