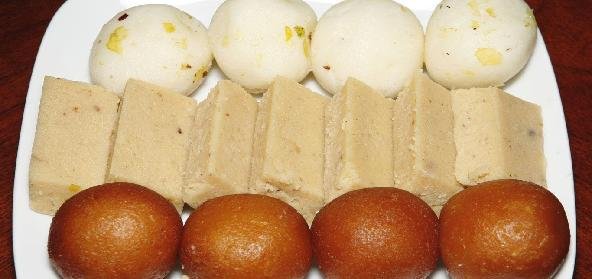 Ingredients:
• 350 gms – Mava (khoya)
• 150 gms – Powdered Sugar
• 1/2 small tsp – Cardamom powder
• 10 Almonds
• 10 pistachios.
Method:
Cut the almonds and pistachios into very fine slices.
Crumble the mava with your fingers. Heat a broad saucepan, add the mava and fry for a while on low heat.
Keep stirring till the water from the mava dries up. Remove from heat and add the powdered sugar.
Then put on low heat and keep stirring and let it cook till the sugar and mava get mixed together.
Remove from heat and add half the cut almonds and pistachios.
Spread ghee on a tray and put this mixture in it.
Press this mixture slowly and make it even and top it with the remaining almonds and pistachios. Let this cool.
Cut into desired shapes and serve.