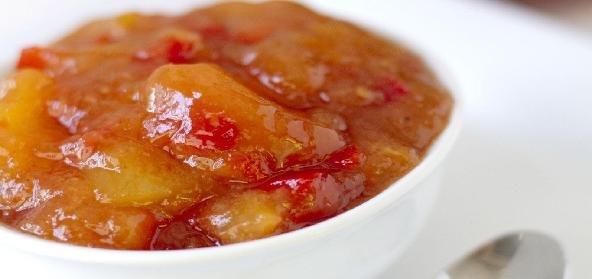 Ingredients:
• 1 cup – Pineapple juice
• 1 cup – Pomegranate juice
• 1/2 cup – grated green Mango
• 1 cup – Corn niblets boiled and softened
• 1/2 cup – Pomegranate seeds
• 1/2 cup – chilli flakes
• 1/2 cup – grated Ginger
• 1/2 cup – Corn flour
Method:
In a thick bottomed pan, boil together the pineapple and pomegranate juice.
Reduce the flame and add the raw mango puree chilli flakes, ginger and the corn niblets.
Cook on low flame until cooked and then thicken the sauce by adding corn flour mixed in lukewarm water.
Blend well and remove from fire. Cool to room temperature.
Mix in the anar and serve with pakoras or tikkies.
Recipe courtesy of pangam