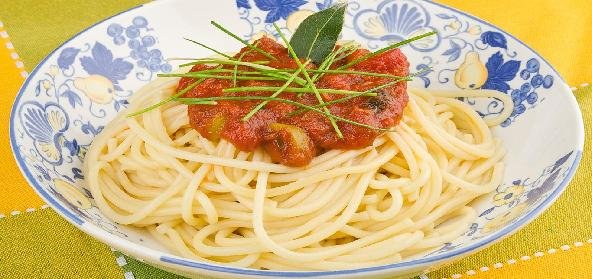 Ingredients:
• 1 tbsp -Olive Oil
• 1/2 – Large Onion cut into medium pieces
• About 3 cups – Ripe Cherry tomatoes, cut into halves
• A handful of Basil leaves – Cut into small pieces
• Grated Cheese (for garnishing)
• Dried Oregano (for garnishing)
• Salt – to taste
• Chilli powder – As per your taste
• 2 handfuls – Long Spaghetti
• About four cups – Water
Method:
In a saucepan, boil water. Add the spaghetti and it boil for 2-3 minutes. Reserve about 1 cup of water and drain the spaghetti. Simultaneously, in a thick-bottomed 10-12 inch frying pan, heat the olive oil and add the onion pieces and saute them for 2-3 minutes on med-high.
Add the cut cherry tomatoes and saute them for 4-5 minutes.
If it is dry, you can add about 1/4 cup of reserved water from the spaghetti.
Then add the salt and red chilli powder for taste and add the cut basil and fry for a minute or two.
Add the drained spaghetti and mix well. (Check for the salt and spice).
Transfer into a serving dish and top with some grated cheese and dried oregano.
Recipe courtesy of Monalisa Boral