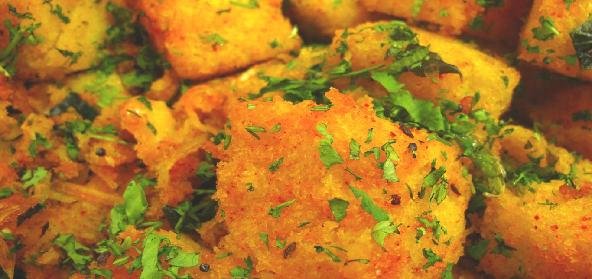 Ingredients:
• 3 cups – yellow moong dal
• 1/2 cup – Curd
• 10 to 12 – Curry leaves
• a pinch – baking powder
• a pinch – Asafoetida
• Red Chilli powder (to taste)
• 1/2 tsp – eno fruit salt
• 3 to 4 – green chillies, cut lengthwise
• salt (to taste)
• 1 tsp – mustard
Method:
Soak the dal for 2-3 hours. Grind the dal into a thick paste using very little water.
Then add 1/2 cup curd, asafoetida and salt to the batter. Mix the batter well and let it stand for 1/2 hour.
Grease the dhokla stand with a little oil.
Add eno fruit salt to the batter, mix it and pour into the dhokla tray. Steam for 20 minutes.
When the dhoklas are done, remove and let it cool for about 5 minutes. Cut into squares.
In a kadai, heat a little oil and add the mustard. When they start to crackle, add curry leaves and green chillies.
Add the dhokla pieces to it and gently turn to coat them.
Serve garnished with coriander leaves. and enjoy with mint chutney.
Recipe courtesy of Jyoti Sharma