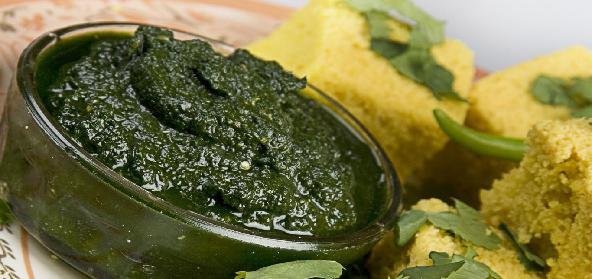 Ingredients:
• 1- cup Moong dal
• 1/2 – cup Rice
• 3-4 Green chillies
• 1/2 inch – Ginger
• A few Coriander leaves
• 1/2 cup – Yogurt
• A little water for grinding
• Salt to taste
• 1 tsp eno fruit salt
Method:
Soak the moong dal and the rice together for two to three hours. Grind it to a coarse consistency along with green chillies, ginger and yogurt.
Add water little by little till it comes to the consistency of idli dough.
Grease a shallow cake tin or thali before pouring the dough onto the thali.
Add 2 tsp of oil and the eno fruit salt to the dough.
Steam it in a kadai for 10-15 minutes.
Cover the kadai with a lid after it is cooked.
Remove and cool it.
Cut it into squares and move it to a decorated serving platter.
Heat a little oil in a pan.
Add one tsp of mustard seeds.
When it crackles, remove and pour it on the dhoklas.
Garnish with finely chopped coriander leaves.
Serve the dhoklas with either mint chutney or coconut chutney.
Recipe courtesy of Radhika