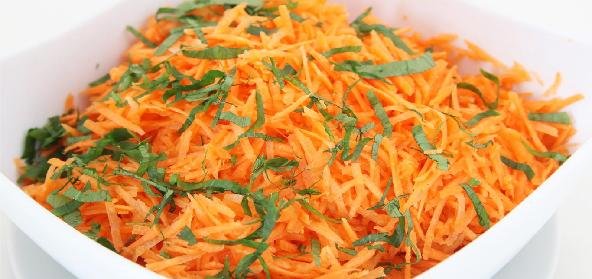 Ingredients:
• 4-6 – medium-sized Carrots (red or Orange ones)
• 6-8 flakes – Garlic
• 3 – Green chillies
• a bunch of Coriander leaves
• juice of half a Lemon
• a pinch of Sugar
• salt to taste
• a pinch of Mustard Seeds
• a pinch of Asafoetida
• a pinch of Turmeric
• 1 tsp – oil
Method:
Wash the carrots and grate them.
Chop the chillies, coriander and the garlic flakes.
Pour the carrot, garlic, chillies, coriander, sugar and salt in a bowl and mix well.
Heat 1 tsp of oil in a kadhai. Add the mustard seeds.
When the seeds crackle, put off the flame.
Add asafoetida and turmeric. Add this mixture to the salad bowl. Mix well.
Add lemon juice.
Recipe courtesy of Noopur