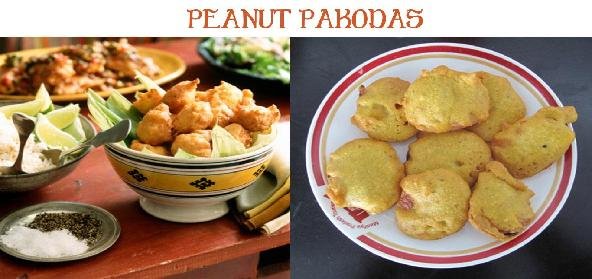 Ingredients:
• 125 g – gram flour
• 150 g – roasted peanuts, roughly chopped
• 75 g – finely chopped Spinach
• 3 green chillies, finely chopped
• 1.5 level tsp – Garam Masala
• 2 tsp – Lemon juice
• 1 tbsp – hot oil, plus oil for deep frying
• salt
Method:
Mix the flour with peanuts, spinach, green chillies, garam masala and lemon juice.
Season with salt and add enough water to make dough.
Finally add the hot oil and shape into small balls.
Heat the oil for frying in a deep-fat fryer (kadai) and when hot, add a few balls at a time.
Cook until golden brown, remove with a slotted spoon, then drain on absorbent kitchen paper.
Continue until all the pakodas are cooked.
Serve hot with tomato ketchup or chutney.