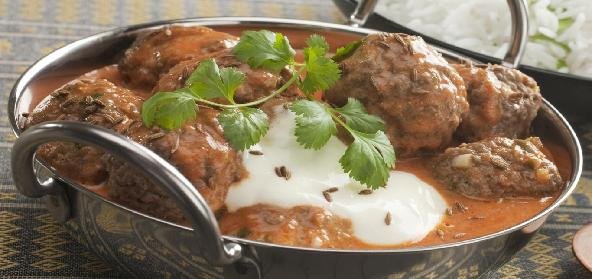 Ingredients:
• Mutton Mince – 500g
• Onion – 5 medium (2 very finely chopped, 3 sliced)
• Ginger-Garlic Paste – 4 tsp
• Whole garam massala
• Turmeric – 1 tsp
• Cumin powder – 2 tsp
• Coriander powder – 4 tsp
• Cashew nut paste – 2 tbsp
• Red Chilli powder – according to taste, but more spicy will be tastier
• Tomato – 2 medium sized – chopped
• Salt to taste
• 1 Egg
• Gram flour – 2 tbsp
• Ghee – 2 tsp
• Kashmiri Red Chilli powder (for colour)
• Mustard oil – 4 tbsp
• Garam massala powder -1 tsp
• Sugar – pinch
• Bay leaf- 2
• Mace – 1 pod
Method:
For Mutton Balls: Finely mince the mutton (preferably in a grinder with a little refined oil), add finely chopped onion, gram flour, egg and half of all the ingredients – expect tomato, cashew paste, whole garam masala and turmeric.
Mix well with mutton mince and make small balls of equal size.
For Gravy: Heat oil in a flat pan, add bay leaf, whole garam masala, and mace. Wait for few second for its flavour to come, then add sugar and caramelize it.
Add sliced onion, fry till golden brown. Then add tomato and fry for some time. Add the rest of the ginger-garlic paste, cumin and coriander powder, turmeric, red chilli powder and stir well. Add cashew nut paste and stir continuously till the oil separates. Add salt.
Mix it well and add 1.5 litres of warm water. When it comes to the boil, add the mutton balls, cover the pan, reduce the flame and cook.
It will take 20-25 mins to get completely cooked.
Then add ghee, garam massala powder, Kashmiri red chilli powder. Serve with Roti/Paratha.
Recipe courtesy of Debi