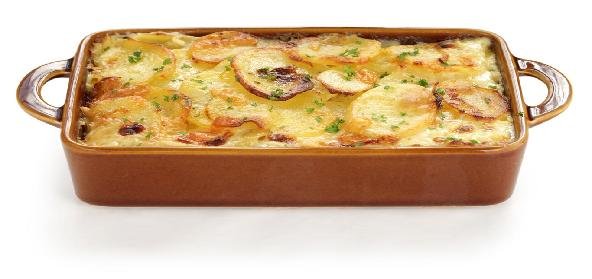 Ingredients:
• Potatoes – 5.
• Onions – 4.
• Garlic – 1 pod, chopped finely.
• Cilantro – 1/2 bunch, cut finely.
• Milk – 2 glasses.
Method:
Take oil in a pan. Saute the onions and garlic.
Cut the potatoes into round slices and then cook the slices with salt and pepper (a pinch) in 2 glasses of milk.
After it is half-cooked, drain the water.
For Baking:
Bake it in a Pyrex Dish. Firstly, arrange a layer of sliced potatoes. On top of that, add a layer of onion and garlic mixture.
Then, add cilantro and finally cheese.
Make a similar layer again on top of that and then bake it for about 45 mins.
Serve hot.
Recipe courtesy of Reshma