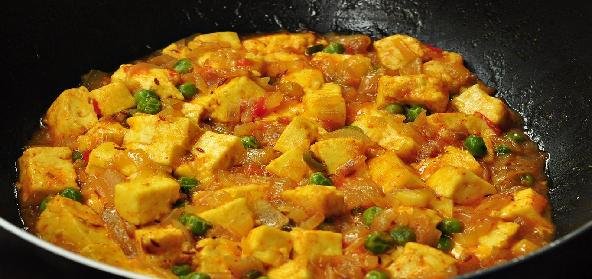 Ingredients:
• 1 pound – frozen or fresh peas
• 1 – big red Onion finely chopped
• 2 – medium size tomatoes, finely chopped
• 1 small packet – frozen Paneer
• 1/2 cup – whipping Cream
• 1/2 tsp – dried kasuri meethi (crush it with fingers before putting it)
• Salt and chilli powder according to taste
Method:
Take peas and microwave it till it gets cooked.
Fry one big red onion till it is golden brown in colour . Add 2 medium size tomatoes which was chopped in small pieces.
Cook it properly till a thick gravy is formed by adding water little by little.
Add salt and chilli powder according to your taste.
Put the small packet of frozen paneer cubes and let it boil for five minutes.
Add half cup of whipping cream to it and bring it to one single boil and keep it aside.
Sprinkle on top with half tea spoon of dried kasuri meethi . Removing from fire.
You can eat this dish with hot chapatti or parathas.
Recipe courtesy of Anita Raheja