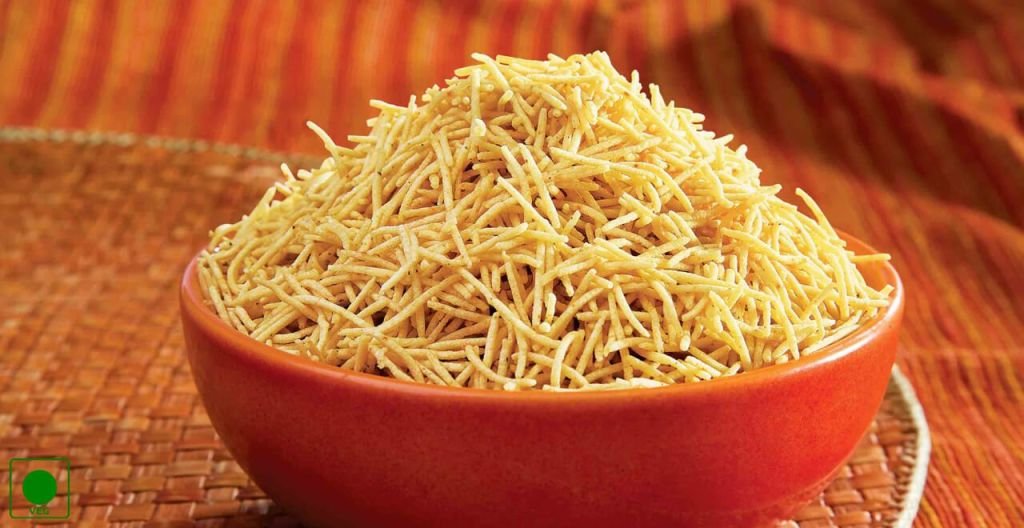 Ratlami Sev is a very popular snack of Ratlam city region of Madhya Pradesh. In there, this sev is used as a side ingredient in almost every chaat snack food. Generally, this sev prepared with chickpea flour and cloves. This chatpati namkeen sev is also very popular in many part of India like Gujarat, Maharashtra, Rajasthan and many more regions. This sev itself it describes its popularity so without wasting time let's take a look for this spicy and mouthwatering recipe.
Ingredients
– 250 gm chickpea flour
– 1/2 teaspoon cinnamon powder
– 1/4 teaspoon clove powder
– 1/4 teaspoon black pepper powder
– 2 teaspoons aniseeds
– 1 teaspoon white chili powder
– A pinch asafetida
– 12 teaspoons garam masala
– A pinch cooking soda
– Salt to taste
– Black salt to taste
– Oil for frying
How To Cook?
1. Combine all dry Ingredients in a large bowl along with 2 tablespoons of oil. Add enough water and knead the dough for sev.
2. Now, take a sev maker and with little oil grease the sev maker from inside and fill it with little portion of dough.
3. Heat sufficient oil in a skillet. Once the oil is heated, press the dough through the sev maker in circular movement over hot oil.
4. On a MEDIUM-LOW flame fry the sev from both the side until golden in color. Drain the sev and put on absorbent paper.
5. Once cooled sprinkle black salt and toss well.
6. Your ratlami sev is ready to savor.
Preparation Time: 5 minutes
Cooking Time: 10 minutes