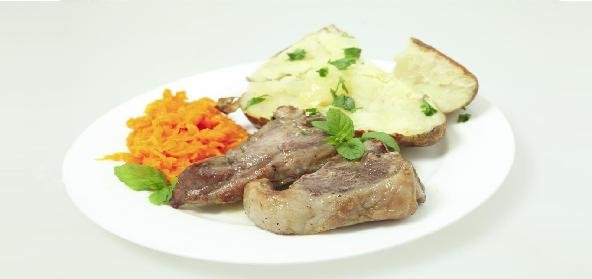 Ingredients:
• 8-10 tender lamb chops
• 3 Potatoes peeled and halved
• 2 tbsp – oil
• 2 tsp – Lime juice
• 1 tsp – Ginger Garlic paste
• 1 tsp – pepper powder
• salt to taste
Method:
Wash the chops well and marinate with lime juice, ginger garlic paste, pepper powder and salt for about 2 hours.
Arrange the marinated chops in a buttered flat ovenproof dish. Arrange the potatoes around.
Pour oil on top, Sprinkle a little salt and pepper powder on the potatoes.
Bake in a moderate oven (355 degrees) for 30 minutes the grill for 5-10 mins to brown the top.
Serve with rice or toast and onion rings.
Recipe courtesy of Bridget White