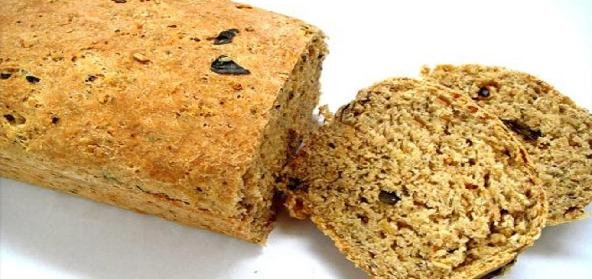 Ingredients:
• 1.5 cups – Whole-wheat flour
• 1 cup – rolled oats (grind coarsely)
• 1 tbsp – Mixed seeds (sesame seeds, flax seeds, Pumpkin seeds)
• Few Curry leaves (chopped)
• 1/2 tsp – chilli flakes
• 2 tbsp – Olive oil
• 1 tbsp – Active Dry yeast
• 1 tsp – Salt
• 1/2 cup – Luke warm water.
Method:
Stir in the active dry yeast and salt in lukewarm water, keep aside until the yeast turns foamy.
Meanwhile mix the flour, curry leaves, mixed seeds, chilly flakes in a bowl and gradually add the foamy yeast, water, olive oil and knead into a soft dough.
Place the dough in a greased bowl and keep in warm place for 2 hours until the dough doubles in volume.
Preheat the oven to 350F and arrange a baking sheet over a baking tray.
Punch down the doubled dough, and knead for a while. Shape it into a loaf.
Arrange the shaped dough in a greased loaf pan, bake for 15 mins in the middle rack, turn the oven temperature to 300F and bake for 20 mins until the crust turns brown.
Keep aside and let it cool.
Recipe courtesy: Priya Easy N Tasty Recipe.
Recipe courtesy of Priya