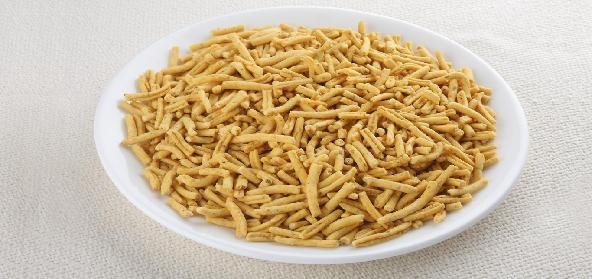 Ingredients:
• 2 cups – gram flour
• salt to taste
• 2 tbsp – oil
• 1 pinch – soda bicarb
• 1/4 tsp – Asafoetida
• water – to make dough
• oil – to deep fry
• 1.5 tsps – Red Chilli powder
• few pinches ajwain
Method:
Make a sticky dough after mixing all ingredients.
Grease hands with some oil for ease in handling dough.
Use bigger holed jaalis, as per thickness desired.
Grease inside cylinder of press.
Fill with dough and screw the top tight.
Heat oil in heavy large frying pan.
When it is hot, hold press high over oil and pipe in sev.
Move in a circular motion and finish off when you come to centre.
When crisp, carefully flip over with a skewer.
Do not allow to become golden. When whitish, remove and drain.
Place on kitchen paper to drain and cool.
Store as is, or crush to small pieces.
Recipe courtesy of Saroj Kering