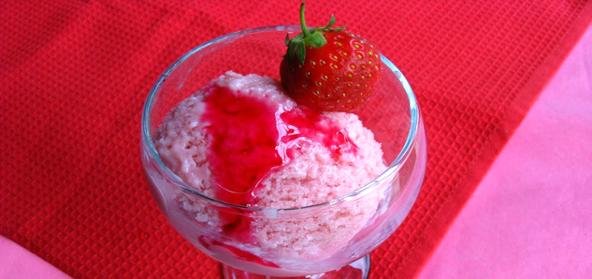 Ingredients:
• Low Fat Yoghurt – 300 ml
• Brown sugar (Cane Sugar) – ¼ cup
• strawberries – 300 grams
• Vanilla Essence – few drops
• Cardamom Powder – ¼ tsp
Method:
Tie yoghurt in a cheese cloth (muslin cloth), leave it for about 2 hours to separate the whey from the solids.
Make a purée of the strawberries, by blending to a fine paste in the blender. Strain and discard the residue.
Whip the yoghurt and sugar, using a egg beater to a smooth paste, till sugar gets dissolved.
Add the remaining ingredients and blend well.
Pour into a freezersuitable container.
Every 1 hour; stir well, to prevent crystallisation. Will be ready in about 8 hours.
Leave it in room temperature for about 10 mins, before serving. Using a ice-cream scoop collect, drag and make large balls of it and serve with chopped fresh fruits of your choice.