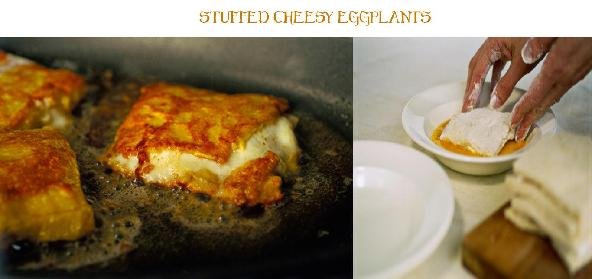 Ingredients:
• 2 large eggplants
• 300 gms – Cottage cheese
• yolks of 2 eggs
• 1/4 cup – fresh parsley, finely chopped
• 125 gms – mozzarella cheese, grated
• 2 tbsp – Milk
• 1/4 cup – breadcrumbs
• Salt and black pepper to taste
• 1 tbsp – chopped Parsley
Method:
Wash eggplants and cut into 1-inch slices.
Sprinkle the slices with salt and leave aside for 10 mins.
Rinse off salt and place the slices on kitchen paper to dry.
Heat oil in a frying pan and shallow fry the slices until tender and golden brown on both sides.
Drain on absorbent paper.
Beat the egg yolks in a mixing bowl. Add the milk.
In a separate bowl, beat the cottage cheese.
Season the breadcrumbs with salt and pepper.
Spread each slice of eggplant on top to form a sandwich.
Dip the sandwich in the egg, and the milk mixture, and then dredge it with breadcrumbs.
Deep fry sandwiches in hot oil for 3 mins. until golden brown.
Drain on kitchen paper.
Garnish with chopped parsley and serve hot with kapsa rice.