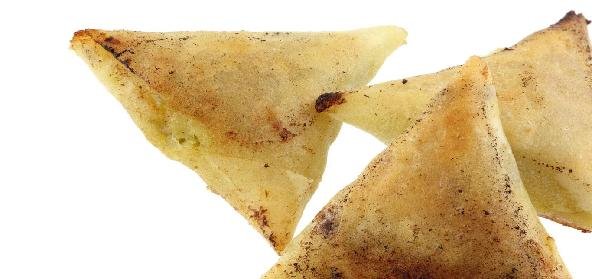 Ingredients:
• For filling:
• 1.5 cups ricotta cheese
• 1/2 cup Paneer
• 1/2 tin condensed Milk
• 1/2 cup Sugar
• 2 tbsp. Ghee
• 1/4 cup fine semolina (sooji)
• 3/4 cup ground Almonds and Pistachios
• 10-15 Cardamom pods ground
• 8-10 Saffron strands, soaked in 1 tsp. Milk
• For Puri:
• 1 cup all purpose flour (maida)
• 1 tbsp Ghee (clarified butter)
• Milk for binding
• 1 cup Ghee
• For garnish:
• 1 cup Ghee
• 1/3 cup powdered Sugar
• lmonds and Pistachios ( slivered – optional)
Method:
For filling:
Heat ghee in a kadai (or non-stick saucepan). Add the ricotta cheese and paneer.
Stir continuously over medium heat until the cheese and paneer are thoroughly mixed and all the water is absorbed.
In a separate saucepan, roast the semolina for about 3-4 minutes on medium heat. Add to the cheese mixture.
Add the condensed milk and sugar and continue to stir. The water will gradually be evaporated from the mixture.
Add the almonds and pistachios, once the water has evaporated. Mix and remove from heat.
Mix ground cardamom and saffron.
Set aside to cool at room temperature.
Make balls approximately 1-inch in diameter.
For puri:
Add ghee to the flour and mix well. Add enough milk to bind a soft yet firm dough.
Make small pea sized balls and roll out to thin puris of about 3-inch in diameter.
Preparing ghari:
Place a ball into each puri.
Pull up the sides to completely wrap the ball.
Carefully remove the excess dough from the top and make sure to press dough to seal.
Slightly press the wrapped ball to make the top flat but still about almost 1 inch thick.
Heat the ghee in a frying pan on low heat.
Fry the puris on both sides till very light golden in colour.
Set aside for 3-4 hours to completely cool.
Decorating the ghari:
With clean hands, whip the sugar and ghee until light and fluffy.
Dip the gharis and place on a waxed paper lined cookie sheet.
Place slivers of almonds and pistachios on the top centre.
Set aside for ghee to become firm.
Your ghari is now ready to serve.
Recipe courtesy of Darshan