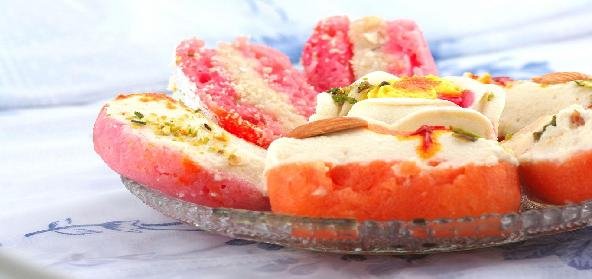 Ingredients:
• 1 litre – plain soya Milk
• 8 to 10 – strawberries, washed, chopped
• 1 cup – fresh curds
• 1/2 – Lemon juice, extracted
• 1 glass – chilled water
• 2 tbsp – Sugar
• 4 to 5 drops – vanilla essence
Method:
Put strawberries in a pan, sprinkle 1 tsp sugar over it.
Heat on medium, till sugar melts, and strawberries become mushy.
Take off fire, drain in colander, allow to cool while draining.
Dilute lemon juice in half glass water.
When milk boils, add curds and mix gently to curdle.
Once curdling starts, add lemon juice, to curdle completely.
When whey becomes transparent, take off fire, add a glass of chilled water.
Drain through a muslin cloth, to collect residue of chenna.
Holding like a pouch under running tap water, cool and wash chenna.
Press out gently to remove excess water.
Return chenna to vessel, add remaining sugar.
Heat gently, stirring continuously, till sugar melts.
This will hardly take two minutes.
Cool to room temperature.
Run this sweet chenna in mixie till very smooth.
Transfer strawberries to a mixie, add essence.
Run till finely crushed but not pasty.
Add to chenna, mix very well with hands, till blended.
Spread on a plate, transfer to refrigerator to chill and set.
When it become a little firm, use to put into moulds.
Press portions into desired moulds, or smoothen into a tray.
Allow to set fully like a soft cheesecake.
Cut and serve chilled.
Recipe courtesy of Saroj Kering