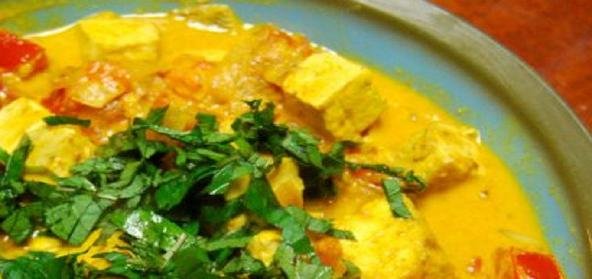 Ingredients:
• For tofu:
• 1 block extra-firm Tofu
• 1 tsp vegetable oil
• 1/4 tsp Turmeric
• 1/2 tsp Red Chilli powder
• salt to taste
• To blend:
• 1 cup – Coconut Milk
• 1 tsp – Cumin seeds
• 1 tbsp – Ginger, grated
• 2 – Dry Red Chillies
• Other ingredients:
• 1/2 tbsp
• 1 – Large onion, finely diced
• 1 tbsp – Coriander powder
• 1 tsp – Cumin powder
• 1/4 tsp – Turmeric powder
• 3 diced Tomatoes
• 1 tbsp Jaggery
• Juice of 1 Lemon
• Chopped Mint or coriander
Method:
Swaddle tofu in paper napkins or in cheesecloth, place in a colander, and place something heavy on top, like a cast-iron pan.
Let the water drain out of the tofu for at least an hour.
Now stand the tofu on the side and slice so you have two slices of the same width as the whole block, but only half the thickness.
In a baking pan large enough to hold the two slices of tofu side by side, mix oil, turmeric, red chilli powder and salt.
Place the tofu in the pan and turn over to coat with the turmeric-chilli-oil mixture.
Bake in a 400-degree oven for 30 minutes until slightly chewy on the outside, but creamy on the inside.
Meanwhile, in a skillet or saucepan, heat 1/2 tbsp canola or vegetable oil.
Add cumin powder, turmeric, coriander powder and stir for a minute and then add onions and saute, until browned.
Add coconut milk mixture.
Cook on a low flame about 5 minutes.
Cut each slice of the baked tofu into four long strips, and then cut each strip into four pieces to get a dice of about 1/2 inch.
Add to the saucepan and stir in.
Add 3 diced tomatoes, cover, and cook until the tomatoes are fairly soft.
Add 1 tbsp jaggery (or sugar) and juice of 1 lemon, salt.
Garnish with some chopped mint or coriander.
Recipe courtesy: Holy Cow Vegan.