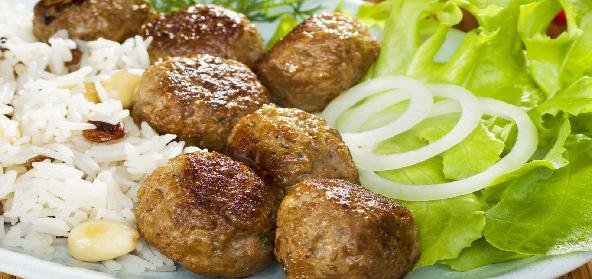 Ingredients:
• Channa dal – 2 cups
• Onions – 2 medium
• Green chillies – 4
• Garlic – 3 to 4 pods
• Ginger Garlic paste – 2 tbsp
• Tomato – 1 big
• Red Chilli powder – 1 tbsp
• Mint – a small bunch
• Coriander leaves – a small bunch
• Saunf (fennel seeds) – 3 tbsp
• cinnamon, Bay Leaves – a little
• salt to taste
Method:
Soak channa dal for 8 to 10 hours and grind it coarsely.
Add little salt, make small vadas and keep aside.
Next, in a broad saucepan, add a little oil, then add the cardamom and bay leaves.
Next add the garlic, which is cut lengthwise.
Add the onions (cut lengthwise) and fry till it is brown and add the green chillies slit lengthwise.
Now add ginger-garlic paste and fry till the raw smell goes.
After this is done add the chopped tomatoes and red chilli powder, fry for 2 minutes.
Close the lid for a few minutes till the tomatoes are cooked.
Now add 4 – 5 cups of water and let it boil.
While the water starts boiling add the chopped mint leaves and coriander leaves.
Take the vadas, smash roughly with your hand and add it to the boiling water.
Finally add the fennel seeds, which should also be ground coarsely.
Add salt and remove from fire.
If the curry becomes very thick, add some more water. The curry should be neither too thick nor too watery.
Recipe courtesy of Abi