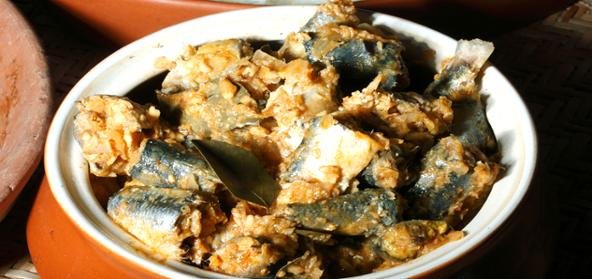 Ingredients:
• 10 pieces – fish
• 1/2 cup -coconut
• 1 tsp – Red Chilli powder
• 1/3 tsp – Turmeric powder
• salt to taste
• Tamarind – 1 (gooseberry size)
• Small Onion (cheriyulli) – 2-3. If you don't get this then 1/4 cup big Onion, cut to pieces
• Garlic – 2 small ones, cut
• 2-3 – Green chillies
• 2 stems – Curry leaves
• 2 tbsp – Coconut or other oil
• coriander powder – as per need
Method:
Heat a saucepan, pour oil and fry onion and garlic till light brown.
Simmer the flame, add the chilli, turmeric, coriander powder, salt and saute for 30 seconds.
Then switch off the gas stove and add grated coconut to the sauteed mixture.
Add tamarind and grind it to a paste.
Arrange the fish, green chillies, curry leaves in a saucepan one next to the other and then pour this paste on it.
The fish should immerse in the paste.
If this is not enough, pour water till it covers the fish.
When it boils, simmer it and cook for 10 mins or till the gravy is thick enough.
Pour oil around the gravy, put some curry leaves and take it off the stove.
Shake it a bit so that the oil spreads around the gravy.
Recipe courtesy of Maya